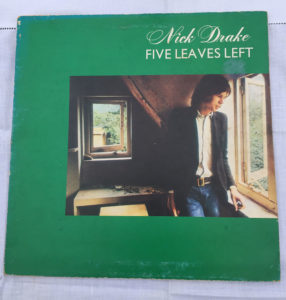 NICK DRAKE – Five Leaves Left
ILPS 9105 RARE PINK ISLAND WITH MISPRINTS, ORLAKE PRESSING
Extremely rare 1969 release on the original pink Island label with black 'block' logo.
Pressing by Orlake with textured labels and raised rim.
Matrix / Runout (Variation 2): ILPS+9105+A Ɔ

Matrix / Runout (Variation 2): ILPS 9105 B // 2
Matte gatefold picture sleeve with the lyrics for 'Three Hours' (mis-titled as 'Sundown'), 'Saturday Sun', and 'River Man' printed inside.
The Island logo and Basing Street address are printed along the bottom edge on the rear of the sleeve.
'Day Is Done' & 'Way To Blue' track listing is reversed on cover. Label is correct and album plays 'Way To Blue' followed by 'Day Is Done'.
Tristan Fry credited as "Tristam Fry" on 'Saturday Sun'.
Produced by Joe Boyd for Witchseason Productions.
GRADING:
Sleeve: VG to VG+
Wear to the edges and spine but no tears, writing, or damage to the body of the sleeve. Faint glue remnants from a small circular sticker on the front. Some blue colouration on reverse from proximation to another album. Minor fading of the green background to a blue colour on the left hand top corner of the front. Slight scuffing to bottom of front.
Vinyl: Grading VG+
Clean, with no damage to or writing on the labels though there are a couple of blemishes. Plays through both sides with only very minor acoustic hiss between tracks.