OUR RECORDS FAIRS HAVE BEEN POSTPONED FOR THE DURATION.
AS SOON AS WE CAN RE-BOOK DATES WE WILL RE-START.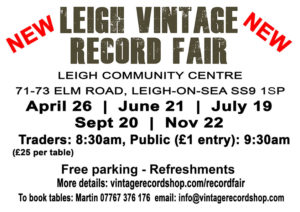 Hello and welcome to the newest Record Fair in Essex.
Based in Leigh Community Centre, 71-73 Elm Road, Leigh-on-sea, Essex SS9 1SP.
Dates for 2020 are: April 26, June 21, July 19, September 20, and November 22 – MAYBE!
Traders: 8:30am; Public admission (£1) 9:30am. Fair closes at 2pm.
Ample free parking behind the centre.
Refreshments available.
To book a table (£25) please call Martin (07767 376 176), or pop into Revolver Records at 785 London Road, Westcliff-on-sea, Essex SS0 9SU.